This band has for sure released one of the best HEAVY-METAL albums of 2021- after a promising 7"Ep, they really nailed it with their "Into The Storm" album - definitely for all die-hard HM maniacs into high-quality 80's like Heavy Metal.. Grab a beer, volume on 11.. one fist in the air.. let's go !
- Hello Heavy Metal Samurais ! Hope you're well and ready for a chat with ROUGH TIMES, to let our readers know more about you ! How do you feel today ?
Gou : Hello. Thank you for giving us the opportunity of interview. I'm doing very well. I'm very happy to be able to release the album.The Covid pandemic has prevented me from getting out much, but it has givenme more time to play the guitar. I've been playing guitar for long hours every day.
Kazuki : Hi, thank you for the interview! The world has completely changed today with Covid, but I'm doing very well too.
- That's a question I always like to ask first.. do you remember WHEN you fell into HEAVY METAL music and thought "Yeah, that's my kinda MUSIC for life !" ? What were the first bands you heard that immediately hooked you ?
Gou : When I was about 3 years old, I listened to separate ways by Journey and black night by Deep Purple, and I entered the world of rock music. After that, I listened to VAN HALEN's first album and Michael Schenker, which shocked me, and I began to seek out heavy metal music. Shortly after that, I listened to JUDAS PRIEST's defenders of the faith and LOUDNESS' thunder in the east, and I was hooked on the world of heavy metal.
Kazuki : When I was a junior high school student, there was a Japanese metal magazine called Young Guitar in the school library, and I saw a video of metal guitarists playing, which got me into the world of heavy metal music. The distorted guitar sound of heavy metal pierced me and resounded within me. This is a little off topic, but on a certain day of every month, the previous month's magazine was put in the free sections, so on that day, I used to dash to the library and get a copy of Young Guitar haha.
- Your're both guitarists of the band.. a slightly similar question.. when and why did you decide to play guitar ? How long have you been playing your instruments ? Who are the axemen that got an impact on you & somehow influenced you ?
Gou : I've been playing the guitar since I was about 10 years old, so it's been about 20 years now. My father is a guitar player and we had a Flying V at home, so I've been playing guitar from a very early stage in my life. My first guitar was my father's Stratocaster. The guitarist that influenced me the most was Michael Schenker. I spent a lot of time copying Michael Schenker, Eddie Van Halen, and Ritchie Blackmore.
Kazuki : My junior high school classmate and I were talking about starting a band, and I started playing guitar and the friend started playing drums. That's how it all started. So I have been playing guitar for 15 years. At first I played cheap guitars for beginners, and then I played a Gibson SG. That guitar was quite comfortable to play. The magazine I mentioned , Young Guitar, had tablature in it, and I practiced by looking at it. At the time, I was copying Crazy Train, Bark at the Moon, etc., and I think I was influenced by Randy Rhoads and Jake E. Lee. Though I couldn't play their guitar solos at all haha !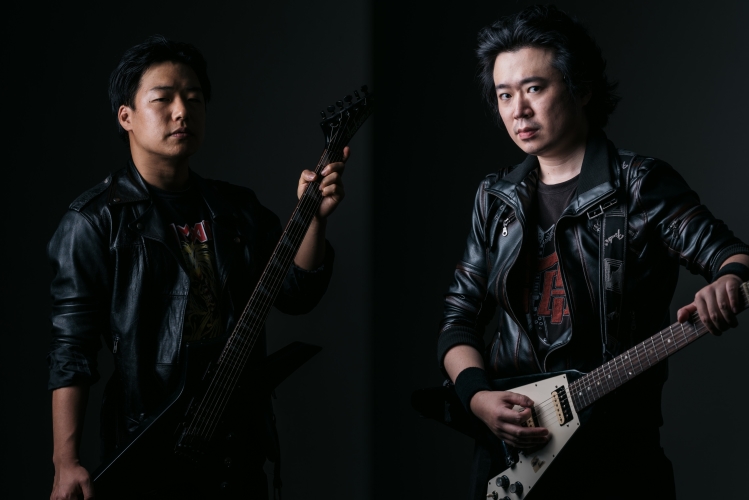 - And how long have you been playing together now ? How did you met and realised you were the perfect japanese twin-guitarists ?
Gou : It's been more than 10 years now. We've been classmates since junior high school, so we've known each other since before we formed the band. He used to play the guitar too. I lent him my Michael Schenker albums, went to see the band he was in at the time, and we used to have sessions together. I feel nostalgic, and after 10 long years, the harmony of the ensemble has become more enhanced.
Kazuki : As Gou said, we were classmates in junior high and high school. He has been a very good guitar player since high school and I still remember seeing him playing the guitar solo of MSG's Looking for Love. I feel that the quality of the ensemble is getting better and better every year, which is one of the most important things for the band.
- So when and why did you form SIGNIFICANT POINT ? What was your goal, your ambition with this new project at that time ?
Kazuki : Before the founding of Significant point, I was in a band whose genre was not heavy metal, and I always felt that I wanted to play heavy metal. When that band broke up, I decided to form a heavy metal band. Gou was the first person I approached. At the time, I just wanted to play heavy metal in a band. I didn't have a clear objective for the project (at least not in my mind), but I had a vague idea that it would be good if we could release an album someday.
Gou : Significant Point was formed in 2011, when the band Kazuki was in at the time broke up, and the remaining members decided to form a new band. Kazuki wanted to play heavy metal with twin guitars, and I was invited to join. At the time, I was in a cover band of seikima-ii (a Japanese heavy metal band), but I was very happy about this invitation because I had a strong desire to play original music. My goal was to create a simple and catchy heavy metal band with an emphasis on guitars. At first, we played covers of Loudness, Metallica, etc., but gradually increased the ratio of original songs.
- Well.. you released a couple of confidential demos and in 2018 it seems you did a first step OUT of Japan by signing to french label INFERNO Records and released your debut 7"EP "Attacker".. how did this happen ?
Gou : In 2016 or so, we got an email from INFERNO Records saying they liked our demo material. That was our first contact. Then we asked them whether they would release the latest songs (which were the songs released as the 7EP later) we were recording at the time, and they said yes. I remember how happy I was, and that's how the 7EP "Attacker" came out.
- Was a 7"EP something you dreamt to release one day ? I mean, most bands nowadays want to do a full-album as first release.. why a 7"Ep ? Was it more of a natural evolution for you ? Is is important to take your time and let things mature ?
Gou : At that time, we had only two songs recorded, Attacker and Danger Zone. However, I felt very confident about these two songs. These songs are very dear to my heart. So I wanted to release them as a 7-inch. Over the years, the performances and arrangements have become more sophisticated, and the 7-inch version is much more advanced than the demo version. It takes time for things to mature, and it is important to feel the growth in ourselves. The first time I was able to feel it was with the release of the 7-inch. It was a wonderful experience.
- Do you remember the reactions about that first Ep ? Is that EP still available (in case some readers would love to get it) ? Can they order from you ?
Kazuki : That EP was the band's first official release, and the first one to be released overseas. We got some reviews overseas, interview requests in English, and good responses from people in many different countries. It was a great experience. I remember that I felt very happy when I held the actual product in my hands. We have the copies of the 7EP, you can order it from us.
Gou : Of course I remember. It was a great response. A lot of people bought the EP at our show, and I was interviewed, the songs was played on radio shows... It was all new to me and a wonderful experience. Please send an email to the band if you want the EP !


- Finally some months later - as if EUROPE was the right place for you - you signed to Germany's DYING VICTIMS Productions.. this label - still underground - is doing an excellent job if you ask me, they have tons of killer HM releases and certainly fo a hell of a job for their bands.. How did you "land" on this label ?
Gou : In 2019 we got an email from Dying Victims Productions saying that they had heard our 7" and liked us and wanted to release an album. I remember I was so happy. They have always been a great supporter of us. They are a very kind and great label. Due to the Corona pandemic, the recording time was longer than planned, but they waited for us. We are very grateful for the opportunity to release this album. When I had the album in my hands, it touched my heart. It was a great experience.
- Your first album was finally released in Februyary 2021 .. what about the feedback so far ? Did you get interest from the underground medias ? Do you feel this new step forward brings you more visiblity and exposure to the world ?
Kazuki : We have received many reviews and interviews. We are just happy now that people in far away countries listen to our album and get a good response. It took us 10 years to release our first album, but we are very happy to have made it this far and to be able to release the album.
Gou : We've been getting a lot of great feedback. I'm very happy to hear that so many people are listening to the album. Thank you to everyone who has listened to it. Thankfully, we've been interviewed a lot. This album is the culmination of 10 years of work, and it contains 120% of what we can do now. We've been through a lot, but I'm really glad that we never gave up and could keep going.
- Let's talk about the musical content.. it's definitely rooted in the old-school HEAVY METAL tradition.. those crazy twin-guitars, hammering drums, hi-pitched vocals.. wow ! It's like a mix of the best that Iron Maiden & Judas Priest could create on speed ! The result is alot more professional than on the EP, was which quite excellent.. How many times it takes to achieve such a result ? I guess you have been working like mad, nights & days.. until you get this..
Gou : Thank you. Yes, we repeated recording the songs many times until we were satisfied with the take. I was working like crazy all day long, and there were many times when I thought, "Oh, look at the time!". The theme of this album was to create an album like a book, containing a wide range of songs from intense speed metal to melodious songs. It was a very challenging experience, but I'm glad I was able to make it working. I think composing music is a way to face myself. My rival is not other people or other bands, but myself. The essential question is whether or not the quality of songs I create achieve the level you want. That's why I had a kind of criteria for myself, and if there were any areas for improvement, I tried to update myself while we proceeded with the recording. As for the guitar solo, I wrote it with the understanding that it is another piece of music within a song. Therefore, the guitar solo is like a story, and I think you can enjoy listening to the guitar solo alone. As such, I was always thinking about "how to make it even better" while recording, and I feel that I have grown a lot through this experience.
- Musically, as said before, I can feel main influences from the two bands previously named before.. maybe we can add some MSG, LOUDNESS to the list.. But what about the lyrical content ? Who write the lyrics ? What are the influences there ?
Kazuki : I basically write the lyrics in English. Sometimes I create the content from scratch, and sometimes I make it based on an image that Goh has made up in Japanese. I don't have a specific theme, but I think I am influenced by Japanese manga and Hollywood movies. For example, Riders under the Sun was made based on an inspiration from Hollywood movie Fast and Furious, as well as the Japanesemanga Initial D and Beckthe. Also, although this is a little off topic from the content of the lyrics, I tried to make sure that the Sound was cool in all the lyrics. I am not a mother-tongue speaker, so there were some challenging parts, but I was able to come up with something that I was satisfied with.
- The artwork of the album is also very great - remembering me of the old japanese horror movies.. Who made it ? Are you pleased with the result ? Who came with the idea ? I personally think it is a PERFECT artwork for a HEAVY METAL release.. right in the tradition - nothing less, nothing more !
Gou : We asked Mario E Lopez M to produce the cover art for this album. We gave him a brief drawing and an idea of what we wanted. Mario's Cover Art definitely fits our musical style and I think it's a really great piece. I feel really happy to have worked with him. In expressing the intensity of heavy metal, I thought it's very of cool to show the fierce lightning and the raging sea. The monster in Cover Art is the band's mascot character, and since the previous 7EP featured the monster attacking people, this time I wanted to portray the people confronting the monster. I had already decided to insert the sound of thunder at the beginning of the title track, Into The Storm, and I knew that it would be a very important song in the album. So, I decided to use the image of this song as the concept for the cover art.
- Still about the artwork, I can see we still have here that MONSTER that also appeared on the EP's artwork.. Is that the band's mascot if I can say so ? Did you give a name to that monster ?
Gou : Yes, it's the mascot. I think it's a very cool character. I wanted us to have a character like Eddie from Iron Maiden or Metallian from JUDAS PRIEST. This monster is quite unique in design, so it is suitable for a mascot. We haven't decided on the name yet, but we want it to be simple and catchy.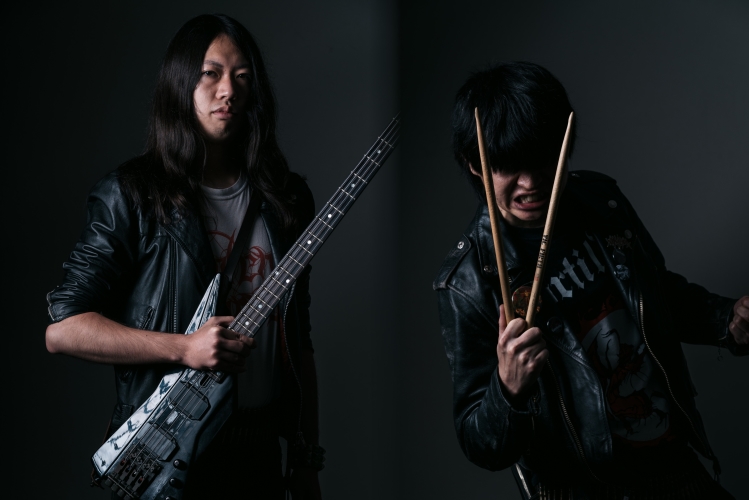 - I notice the line-up has changed again.. new bassist .. and also new vocalist. What has happened with the previous band members ?
Gou : Most of the members are still active in a band. Of course we interact with each other. We are all in different bands, but we all continue to play heavy metal, so we often meet up at live houses. Sometimes we even play in a same show. It's a bit strange to see the members who used to play together from audience side, but they have all grown up, and I'm happy to see how much they have grown.
- Can you introduce the new members ? Do they play/have they played in other bands before joining SIGNIFICANT POINT ?
Gou : Bassist Kazuhiro Watanabe joined the band in 2018 Actually he is a guitarist and has been playing guitar in Assault Attack and Branded Evil. At the time, Significant Point did not have an official bassist. So, at one of our shows, we asked him to support us as bassist, then he became the official bassist of Significant point. George Itoh, the support singer in this album, is in the bands Risingfall and Military Shadow. Since Significant Point did not have an official vocalist, we asked him to sing on the album. He did a really great job and we thank him and his main band's members.
- Why is vocalist George Itoh credited as "guest" vocalist ? You plan to kick him soon out of the band or what ? haha.. just kidding.. I think you should pay him BIG money to keep him as permanent vocalist, he's really perfect for the job and the band's style.. his abilites to reach high tones are really impressive and it brings alot to the music..
Gou : Yeah, George Itoh is the guest vocalist for this album only. He is already in several bands, so it must be hard for him to be in more bands. I know how hard it is for him, because at one point in my life I was in several bands and projects. Significant Point doesn't have a vocalist as an official member, so we had to ask someone to sing for the album. When I heard his voice, I thought "He is the perfect vocalist for this album! ". I was convinced. Even though he has his own band, he gave it his all to record this album. I think he has a wonderful voice. If you listen to Risingfall and Military Shadow, you will see that he is able to use completely different voices for different bands. He has the variety and the strong throat to withstand it all. In addition, he is a very nice guy. I'm very happy to have worked with him this time. Their music is really great, so please check them out !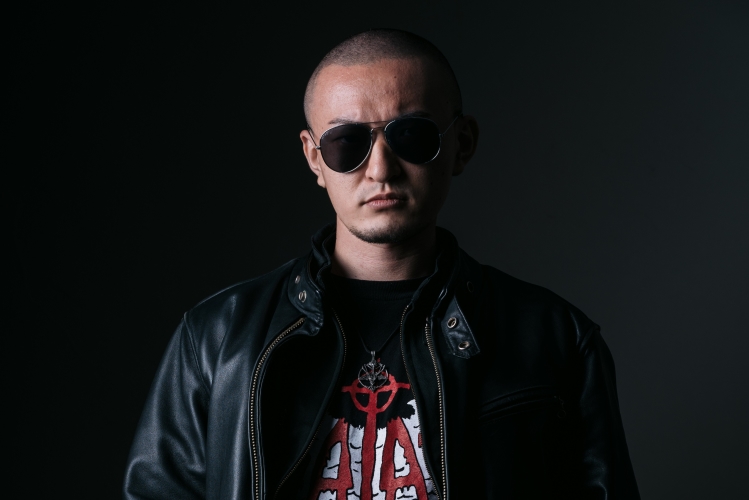 - Ok, now .. What about the next steps ? Any plans ? Gigs ? Tours ? I know the Covid-19 SHITuation fucks alot of the artists/musicians plans at the time.. but are there things already planned for the future ? Now that you worked with two European labels so far, can we hope to see you here someday ?
Kazuki : Japan is in a state of emergency, and our live schedule is blank. Also, we haven't been able to go into the studio to practice. Once the pandemic is over, we want to resume the band's activities, starting with getting into the studio. Also, I haven't had a drink with the band members for a long time. I want to drink beers with them again. Due to the effects of Covid, it seems that live hauses have been closing down in Tokyo. It has become difficult for people to go and see live music. Corona has had a huge impact on many areas, and it has also had a huge negative impact on the music scene. I hope it will be over soon.
Gou : Japan is currently under a state of emergency due to the effects of the Covid, making it difficult for us to perform in live shows. So as Kazuki said, we have no plans for live performances at the moment. I hope the pandemic will end soon.... First of all, in order to end the pandemic as soon as possible, each one of us has to figure out what we should do and what is the right action to take. When the pandemic is over... I want to play gigs ! Right now, I'm concentrating on writing new songs. I've got some interesting ideas, and my goal right now is to give them shape. I have a lot of time, so I'm going to take my time in developing the songs.
- Japan definitely have KILLER bands, no matter the style, each time I hear a japanese band, I am always impressed with their work and the involvement in their art, they never do things by halves.. Same for Japanese people I met over the years, no mater what they do, it always must be perfectly done.. How do you explain that ? Can you say it is part of the japanese culture and education ?
Gou : Yes, it is true that many Japanese people finish their day after finishing what they have to do today. Not only in music, but everything in life... Eating at a restaurant, shopping, taking a train... At any given moment, there is a certain level of perfection... a certain level of quality. It's amazing. Living in Japan, this environment becomes the normal. And I think it has taken root as part of the Japanese culture, and everyone is naturally adopting this way of working. Of course, it's a wonderful thing and I'm proud of it as a Japanese, but sometimes I think that Japanese people need to take it easy and relax a little, because if we are like that all day, we'll get tired. . haha. But Japan is a really nice country. The food is delicious, and there are so many beautiful places. I'm also quite a perfectionist, but I think it worked in the right direction for the production of this album. I'm glad that I was able to put in 120% of what I can do now without any compromise.
- And talking of Japanese bands.. are there some you'd like to recommend to the readers ? Bands you are friends with or simply bands you appreciate their work ?
Kazuki : For Japanese bands, especially young ones, I would recommend Risingfall, Military Shadow, Hell Freezes Over, Evil, Bafomet, and of course there are many other great bands. I hope that this scene in Japan will become more active in the future, and our band's activities will contribute to this scene.
Gou : There are a lot of great bands in Japan, like Risingfall, Military Shadow, Hell Freezes Over, Evil, Bafomet, The Blue Scream, Chase The Top, and many more. In the 80's Japanese heavy metal scene, I like Loudness, Anthem, Bow wow, Vow wow, Hellen, Hurry Scuary, Crowley, Sniper, Sabbrabells, X, Wolf, Prowler, Dementia, and so on. They are really great bands, so if you get a chance, please give them a listen.
- Well... I really THANK YOU for your time and patience.. this is now the end.. and this last space is yours.. feel free to add what you want... last words are yours..
Gou and Kazuki : Thank you very much for giving us the opportunity for the interview ! If you are interested in us after reading this interview, please take a listen to our album "Into The Storm". And stay safe, take care of yourselves !

Follow the Band