Born from the still smoking ashes of RAZÖRWYRE, New Zealand STÄLKER is the embodiment of pure SPEED METAL MADNESS ! Their music is like a FIST in your FACE, it goes straight to the point - definitely they take no prisoner ! It was about time to do an interview with these gentlemen, as after a successful demo and a well-acclaimed first album, the band returns with a brand new 7"Ep ! (Interview originally posted in HAMMERED Blog - Fab's previous project..)
Hey Chris ! How is it going today ? Ready for a serious chat ?
Of course !!! Hit me !!
Ok, let's start with the beginning.. STÄLKER is more or less born from the ashes of RAZÖRWYRE, right ? What happened to your previous band ? If I understand well, the band disbanded after your singer went to live in the USA.. wasn't it possible to find a good singer to go on ? Or were you also bored about the whole situation and you needed a change, a new beginning ?
Right !! Straight to it !! STÄLKER was in some way born from the ashes of RAZORWYRE but also is its own thing also. That's right, my singer decided to move to the US of A and start a new life and that left me with a band with no singer. I took a wee break and sorted out some issues in my life which took a bit but was always playing and writing for new material. Once I found out he was out, I said well that's that then haha pretty much an opportunity to start again with a new band.


Well, you founded then STÄLKER with ex-RAZÖRWYRE drummer Nick.. how did you team up with Daif ? Did you know the guy for a long time before ? You are existing as a 3-piece band.. was it a choice ? Never thought of a second guitarist to bring more power to the sound of STÄLKER - especially when playing live ?
I was always going to do another music project, it was just a matter of when! It was by chance that I was at my good friends house a lot at the time and they had a new flatmate, Daif, he was an old metal fan also and had been writing some shit. He showed me some stuff and i was like holy fuck, these riffs are bad ass!! Not long after I thought to myself, hmmmm. Maybe we could do something. I had Nick waiting in the sidelines for when i was ready and next thing you know we said fuck it, lets do this. Next thing was to find a singer. Daif showed me some stuff with his vocals on top and I said right! Thats that sported. We will be a 3 piece.
How can you musically compare STÄLKER to RAZÖRWYRE ? I can find some common touches in the guitar parts but it's like it's played a lot faster with more aggression, more madness.. you took your sound to a higher level ... more extreme, but yet "old-school".. do you agree ?
100% agree. That will be Daif's influence on the music.
You founded the band and released a demo in 2016,released a 7"EP in 2017 as well as the first full-length album - WOW !... Don't you think it was FAST ? How do you explain this ? Are you THAT motivated that everything went so fast ?
Haha yes we are that motivated. Basically all our free time (after work) went wards writing. From Razorwyre, i knew the importance of having stuff out and then following it up with more you know. None of this wait a few years for more. As a music fan, I like to see bands putting shit out. I know it takes ALONG time. But for this style music, no reason why you can't have something out every year.
Speaking of the material you released... Your "Satanic Panic" DEMO.. it was released on CASSETTE only ? Why this choice ? How do you value this format and don't you think it's a bit strange to see this format knowing a real comeback in a time when "digital" is supposed to be the "future" of the music industry ? At last, that's what they try to make us swallow, I'm not convinced you know...
Well, you only get one chance to put a first release out and why not on a Cassette like in the old days. I know there is a die hard collectors scene out there. And we were right. Woke up the next day after putting it out and all sold out !
Also in 2018.. you played at the KEEP IT TRUE Festival in Germany.. THE festival every "old-school" bands want to play ? What memory do you keep from this day ?
Man, KIT was unreal. From being put up in a old school german hotel down the road to meeting heaps of people I have been talking to since 2012 in real life. The atmosphere was absolutely incredible. We were up first on the first day and was very nervous. Place was full when we played and afterwards meeting new people was such a high. Will always remember the festival. Later on we got to see bands like Exhorder and Heavy Load and Flotsam and Jetsam.
You also played some more shows in Germany, right ? How was the feedback ? How did you enjoy your european trip ? Is Europe a lot different from New Zealand ? Any things that seemed strange to you ?
It was always my dream to come and play in europe and with it lined up with my old band years ago, unfortunately fate was not on our side and we had to cancel. (weeks before we meant to go our drummer broke BOTH his arms) It was great to have another opportunity with Stälker. We lined up 6 shows and it was fucken mindblowing. Hamburg, Berlin and Pisek CZ were absolutely mad. Way different from NZ. These are what shows should be like !! Nothing seemed strange at all.
Also.. I wanted to talk about your current label.. NAPALM Records.. How did you land on this label ? Were you looking for a big label like that ? Was it what you wanted to achieve ? Are you so far pleased with the support you get from them ? Do you feel well-treated ?
Not long after our demo was out one of the A&R guys sent a message to our fb and said hey Napalm Records here, please get in touch for a chat. I thought, wow, that's odd, wonder what they want. Gave him a call and found out he was a massive fan of the demo. Really really was up his alley. He wanted to see if he could sign us and was gonna talk to his boss. Well, he came back and said i got the ok if you guys are keen. We didn't even have time to talk to anyone else and we thought would be a good opportunity for us from New Zealand as we are so far away from everything going on in europe. To answer your question, we weren't looking for a big label, at the time we were just happy to get the release out. Labels aren't what they used to be, a lot has changed since 10,20,30 years ago. We just wanted to get our music out to more people to make it hopefully easier for us to play in europe when we have a chance. Napalm have been nothing but great, the staff i have been dealing with are so great and made some great friendships.
There's a band on NAPALM Records that I can easily imagine touring with STÄLKER.. I mean EVIL INVADERS .. Do you know them ? Do you like their music ? Are you in touch with them ?
That was one of the reasons we also said yes to Napalm. Saw that there was another old school band doing great things on there. Obviously the band had worked very hard before Napalm came along, just like we had. I don't know them personally. I am not in touch with them, i do talk to their manager sometimes, Enzo. I don't listen to them much, but they are great. Only because i still listen to bands from the 80's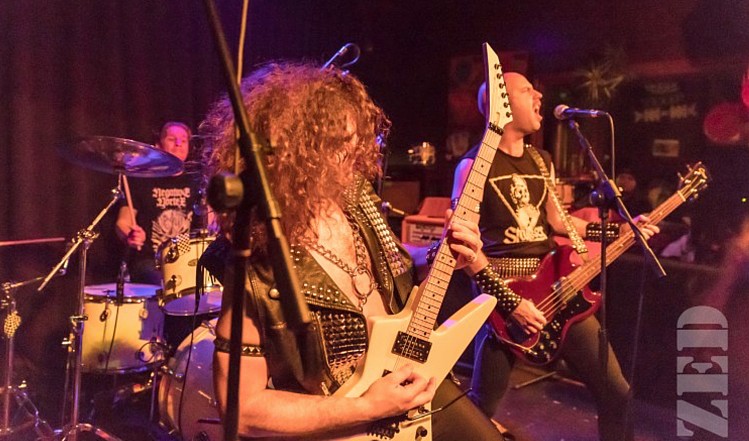 Are there some other bands of the new wave of "old-school" bands you like ? Your view on this new wave of young bands worshipping 80's speed-metal madness ? What are your faves ?
I love it ! and I think it's been great for music this last couple of years. Ranger, Vulture, Riot City, Diabolic Night, Indian Nightmare, Torpëdo
Back to the band... Your album.. how did the writing happen ? I mean was it a BAND common effort or is there ONE main composer in the band ?
The writing process is usually me or Daif will have some riffs and we will sit down together and arrange them. Sometimes it's more daif, and sometimes more me.
Well.. now that the album is out.. any plans to tour Europe / USA.. ? Besides do you play a lot in New Zealand ? Describe a typical STÄLKER show ..
We went to Europe for the first time last year to play the legendary KIT Festival. We also played 5 solo shows after the fest. Was madness. Shows in Europe are mental. However, a lot of our shows have been crazy. Different show to show, but high energy show can make people loose it.
How is your local scene ? New Zealand is rather a small country.. is there a local METAL scene there ? Any bands worth to mention ?
Lots of bands from NZ !! Massive punk and death metal scene. Not much old school metal. Few worth mentioning : Piggery, Meth Drinker (RIP), Total Ruin, Beastwars, Heresiarch, Blood of the Moon (RIP), Storm Forge.
You opinion on the WORLDWIDE Metal scene ? Some people say it was much better years ago.. but on the other hand we have more & more young bands raising high the flag of METAL... what do you think ?
Depends on when years ago was haha. If it was say, years ago in the 80's then yes of course i would say it was better. I would say the last 10 years has been great and is only getting stronger. However, this is my opinion from little old NZ. Don't know what it's like in the front lines in the cities around the world.
Ok.. what about your plans now ? At the time we're talking, a new EP - "Powermad" - is about to be released on NAPALM Records .. some words on it ?
"Powermad" is out now! Going very good thank you. You can check the video we made for the song "Behold the Beast" from the 7inch.
Otherwise, if we look further.. what are the other plans ? A new album maybe ? When can we expect it to be out ? Have you started working on it yet ?
New album should be out March 2020, you heard it hear first !! Demos all don't and we start recording in 2 weeks. Can't wait to show everyone.
Ok.. thank you for your time.. last words are yours.. !
And thank you for your time !!! Last words? Eat my ass !!