Well.. in a "perfect" world, i sincerely think THIS band would be HUGE ! But we're not in a perfect world and moreover this band hails from Argentina, which ain't the most popular scene in the world... the band struggles hard to deliver their brand of HEAVY METAL, made in the old-school spirit.. dark & evil... Their "Rock Is The Force" album should be in the hands of every true heavy metal maniacs of this planet... but i know it's not the case yet.. so I hope this interview with Daniela Benvenuti (Vocals) will help them to reach more people around.. (Interview originally posted in HAMMERED Blog - Fab's previous project..)
Hola Daniela ! How are you doing today ? Ready to spread the good words about XENOTAPH ?
Hi Fabien!! Totally, Let's start !

Well, i'm always curious to know .. how did you discover HEAVY METAL music and what are the bands that pushed you to start playing music/singing ? Your favorite singers ?
Well, it was kind of a heritage from my parents. I remember I used to listen to Heavy Metal and Hard Rock bands when I was a child : MOTÖRHEAD, KISS, IRON MAIDEN, TWISTED SISTER, HELLOWEEN… The bands that encouraged me to sing on my own were KISS, GRAVESTONE and SANTA and my favorite singers are Doro Pesch, Mariann Scandiffio, Paul Stanley, RJ Dio and Don Dokken for sure.

Is XENOTAPH your first band experience or have you been playing/singing in other bands before ?
Actually, no. I've played in two other projects before Xenotaph. In one of them we used to play Blues and in the other one we played some Heavy n' Hard Rock covers. So my first band was the Blues one.


When was formed XENOTAPH ? Was it your initial idea or did you join them ? How did this happen ?

It was formed by Eric Lancon in mid 2011. The original idea of forming a band of "Raw Traditional Heavy Metal" came from him. Then Gustavo Quiroga (Eric's Infernal Curse band mate) and me joined the band. After a couple of months, Thanatos, who was playing in Violent Attack from time to time (Thrash Metal from Paraguay) joined the band too. That happened in April 2012. We started playing as a quartet, with no bassist in the line-up. We needed one, actually. But we weren't able to find someone at that time.
I can see the band's line-up remains rather stable since the beginning.. you only changed bass-players twice right ? Do you have a new 4-string man by now ? Is it easy to find good musicians where you live ?

You're right. We had to change bass players twice. In fact, the Rock is the Force's bass tracks were played by the album's producer, because we hadn't a bassist at that time. Argentina is full of great musicians but in the case of an Underground band which plays... let's say a "non common genre" in this part of the world, it is more difficult to find someone who plays that instrument and shares our musical tastes.
Well.. about your discography.. I see you have first released in 2012 the "Lucifer" 12"EP which is now sold-out... what was the feedback about it when it came out ?

Well, it was a limited edition, so we can't have a finished idea about it (respect of what it means), but in some way, we know it was well-accepted by Metal maniacs.
It was released to.. 50 copies only.... this is NOT much... why only 50 copies ? This actually seems strange to me, 'cos the minimum print run i can get from European pressing plants is usually 250 copies.. i wonder how this is possible, you know ..

It's is an acetate 12". Since we didn't have a proper demo tape before, just some taped rehearsals and a couple of live shows, we decided to press this limited acetate by ourselves. However we should have pressed at least 100, nowadays many people write us asking for it, but that's how it worked at that time.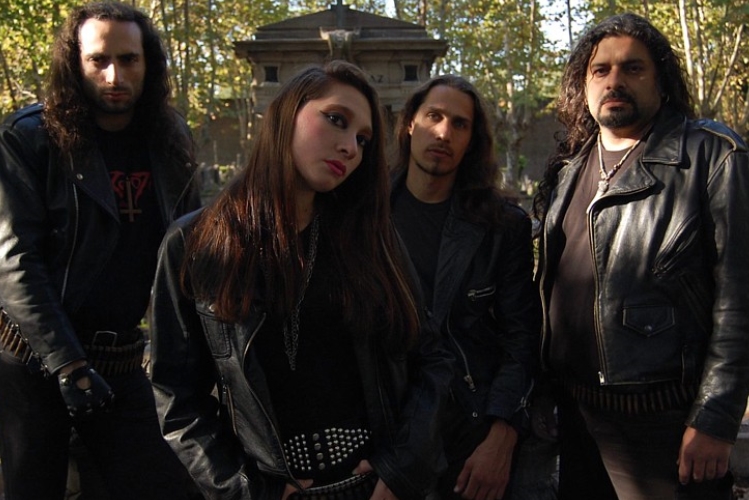 In 2013 you released your first full-length album called "Rock Is The Force" which showed a more mature band and more solid songs if you ask me.. pretty much in an "old-school" Heavy-Metal/Hard-Rock style, influenced by the likes of Blacklace, Acid... also with maybe an "obscure" touch à la Mercyful Fate... do you agree with this musical description ?

I think the band felt more confident during 2012. We planned to record at the end of that year (it was done in December 2012) and we practiced a lot for several months. That's why you can find a very strong and straightforward Heavy Metal album. According to our guitarist Thanatos, it lacks of some arrangements and phrases that reinforce the songs. Even so it is a powerful and sincere album. We've been influenced by bands like Acid, Blacklace and so on. But we love to listen to a lot of other stuff like OMEN and WARLORD (US), OZ and the finnish scene, CANDLEMASS, HEAVY LOAD and many Swedish bands, MESSIAH FORCE (CAN), ANGEL WITCH and almost the whole NWOBHM, many of the German scene... STEELER, ACCEPT, RUNNING WILD, etc... SORTILEGE, BLASPHEME from France - your country !! On the other hand, Eric and Thanatos love East-European and Asian Heavy Metal bands. Talking about MERCYFUL FATE, we can't hear such an influence in our songs, but we really appreciate that you mention it. MERCYFUL FATE is one of the greatest bands we've ever heard !!! Fuckin' awesome !!!
How have been the reactions from the medias, fans to "Rock Is The Force" ? Was it more or less what you expected ? How do you rate this first album today - 6 years after your recorded it ? Still proud of it or are there things you'd like to change if you could ?

In fact, it was better than we expected. As far as I am concerned, I wouldn't change anything. What I did in the album and all I've done up to now push me and encourage tobe better for the next time I record.
(Eric - guitars - talks)
Even if I'm not satisfied with "Rock is the Force" final master I try to focus on the positive : We did it ! With lack of money for a better production, with lack of experience and in a country with so many, many difficulties, we just did it ! Anyway, for our next recording we should make something crushing and stronger. With a better production, something more convincing for ourselves.
It was first released on portuguese label NON NOBIS Records on CD and on french label CRYPTIC VISIONS ART.. how did you get in touch with both labels and what made you go for them ? Have you contacted a lot of labels to release "Rock Is The Force" ? Are you pleased with how things went so far with those labels ?

Luckily we didn't have to search for a label and Cryptic Visions Art has done a really good job with the vinyl. And just after the vinyl was out, Non Nobis wrote us to make the cd version.
And in 2017, you re-released it on EVIL DOMAIN Productions, a south- american label based in Ecuador.. ? Why this decision ? For a better distribution in South-America maybe, since previous labels are both based in Europe ... I assume it was not so easy for south-american maniacs to get a copy of the album, right ?

You're right ! EVIL DOMAIN contacted us to release a "Rock is the Force" second edition. We were looking for a better distribution in South America and the deal was fair, so we agreed. Furthermore, we received more copies than before with Non Nobis.
This south-american version includes two bonus-songs, taken from the "Lucifer" Ep.. was it your idea or was it a label's condition ?

It was an Evil Domain proposal and because "Lucifer' had had a very few copies out here, we thought it was a good idea to add it. And of course, that should give it a different nature in comparison with the portuguese release.
Well.. All those songs were actually composed before 2013.. at THIS time - do you have new songs ready ? How would you qualify the new songs compared to the previous material ? Still in the same "old-school" vein or have you experienced something different ?

Yes, actually we have more stuff composed and almost ready for recording a new album. They're quite faster. Let's say it's Speed Metal stuff. I'm quite anxious to record our new songs because I like them so much. I have the premonition that the new stuff is born to kill !
Can we hope to hear new material from XENOTAPH soon ? Is a new release planned by now ? When can we expect it to be out ? Do you have contacts/offers from labels ?

Yes, of course. We plan to record all of these songs soon. Although we haven't had any label proposal yet, we all know that somebody "will ring" soon. We weren't able to do this before because we all have several work duties and another musical projects as well. And we also self-released a Live EP last year. That stuff was recorded live on an 8-channel open reel tape. I remember it was a gig that Xenotaph made with some friend bands from Buenos Aires. We are very happy with the result. It's thunderous and direct. We think that the record picks up the band essence on stage.
Do you have an idea of the content of the next release... ? How many songs ? In a "perfect world", how would you like it to be released.. I mean.. CD ? Vinyl ? Cassette maybe (as those "little things" are having a great comeback in the underground scene lately).. Digital ?

We already have 7 songs composed. We think that one more would be ideal. In a "perfect world" the three formats would be great, but we mainly prefer vinyl releases, for sure. That is the format we mostly like. I'm not sure if digital platforms are primordial, but I have to admit that is the most one used nowadays.
Talking of "digital".. a lot of people thinks it's a great way to help/promote bands throughout the world.. your opinion on those new "technologies", the internet-things, youtube channels, etc.. ?

They're very important and they help to promote bands all over the world, certainly. We haven't step aside from this "knowledge system" and we usually look up information on the Internet too. It has to be said that is useful for everybody.
Ok.. to be honest, i don't know much about Argentina's Metal scene.. is HEAVY METAL popular in your country ? Is it easy to start a band & find places to practise/rehearse ?

Well, lately the Metal scene became a bit more popular and recognized. There are Underground bands of all Metal genres playing frequently nowadays - it has never been our case, haha ! We've played just a few times ! It isn't complex to form a band and find rehearsal rooms, neither, but it is difficult to keep it alive. The current economic situation of this country makes our lives more difficult. Prices, fees and taxes increase everyday and you know, keeping an underground band alive implies a lot of energy and too much economic resources. I also want to add that the distances in Buenos Aires are quite long. So just imagine we all live in different parts of the city, none of us have a car and we all have responsibilities for which you need to have a big passion for metal music to keep the band on.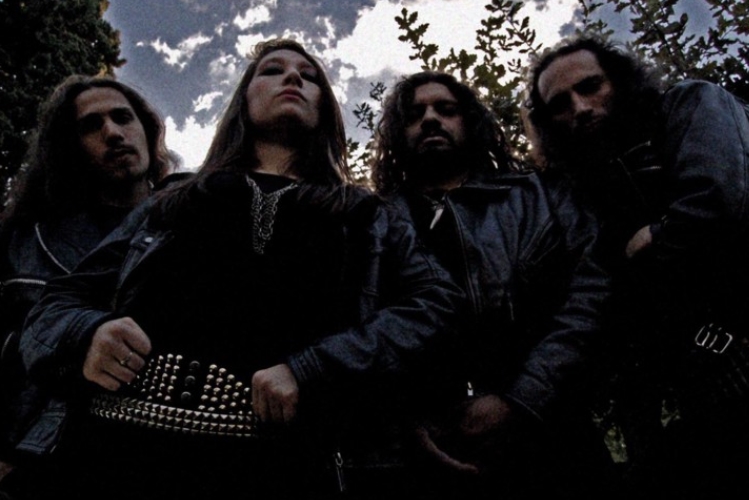 What are the bands you're friends with and you'd like to promote a bit here ? Your recommendations for someone who'd like to listen to more bands from Argentina ?

RETROSATÁN is the first one I'd like to recommend you, for sure. It is a classic band reformed a couple of years ago and they've came back stronger than ever. Not only in Argentina but also in the whole region. No doubt ! There are a handful more that I can rapidly recall now: SORCERERS, STEELBALLS, INTERCEPTOR and LADY EVIL in which Gustavo and I are playing..
Actually, when looking at METAL ARCHIVES, there are litterally TONS of Metal bands in Argentina.. i was very surprised to see the amount of bands you have.. but actually, they're all "unknown" out of Argentina (except a few ones).. how do you explain this ? Why does your scene remain so confidential ?

Well, it's quite complex to explain. Argentina was always a bit separated from the rest of the South American scene. Historically it was a country "represented by the so-called Metal Argento", but it wasn't well received by the rest of the region. However, parallel to this, we can say we've always had another Metal scene quite different from the one I've just told you. A strong one, but kind of "confidential", as you said before. And we think that over the years and because of the "Internet benefits", it's been showing up in other Metal scenes. Like "releasing" from its confinement a lot of old and aggressive Heavy Metal Music. In other words, Metal traffic is more fluent and abundant than some years ago.
Talking of bands.. can you tell us a bit more on your other band called LADY EVIL ? How can you musically qualify it compared to XENOTAPH ?

I wouldn't compare them. I treat them in a different way. Both in the staging and the lyrics composition.
You have self-released a first EP last year, right ? Some words on it ? How can people get it if interested ?

Yes, the Lady Evil songs reflect our influences. They're classic Heavy Metal as well. So, that way, as a band, we found our identity. They are just a few copies out, but the stuff is uploaded on YouTube, so you can get it on the internet. We're recording a full length as well. I hope to give you some good news about it !!!
Well.. back to XENOTAPH as this is close to the end of the interview.. Apart from a new release, what are your other plans ? Gigs maybe ? Have you ever played out of Argentina and what are the countries you'd dream to visit to play live shows ?

To dream is for free, isn't it ? … To be honest, we'd love to play in SouthAmerica and Europe as well. But a trip to Europe can be extremely difficult for us. We are five people and we have no Budget at all. And.. actually, beyond our dreams, we are concentrated on the upcoming rehearsals and the recording of the second album. That is our current priority. Xenotaph played twice out of Argentina. Both of them were in Paraguay. A Killer Metal scene, by the way.
Describe a typical XENOTAPH show with your own words ?

A Xenotaph's show is direct, straightforward. All the people that share the true Heavy Metal spirit, can be identified with us.
Thank you very much for your time.. this is now the end.. last words are yours ...

Xenotaph is "minimalist". We only want to share and spread the HEAVY METAL Legacy from the 80s. Screaming aloud and clearly what we understand from those golden years. Thank you so much for giving the space to the bands from the far south. Keep an eye on Xenotaph : a new furious Metal album will see the light soon !
Follow the Band